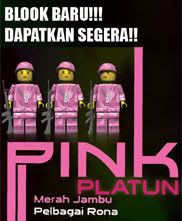 Buku Pink Platun. RM 17(+RM1 for postal). Free kisses! hehe.
Email me de5lin AT yAhoO DoT CoM to hav it!
>>
end road.


Thursday, May 24, 2007 05:14 pm (de5lin)

When you not good in verbal.
And can't speak tru your finger.
What will you do?

mute?
been there.
Vanish?
Done that.

Now?
Stop!



Permalink
>>
now I know why!


Monday, May 21, 2007 09:24 am (de5lin)

This morning I woke up and wonder why I'm not special to 1 single person.

As usual I took LRT to work.
LRT sampai aku masuk macam biasa.
I stand next to a couple since that's spot no body there.
3 ladies infront of me giggles and jeling-jeling a couple beside me.
Next station another girl come in. I saw her curios expression follow by shocked eyes.

Guest what, couple beside me was damn horny.
and, both of them are men.

Yacks!!!
On that hell second I feel damn sick. Almost muntah hijau. *I still feel sick while writing here and when ever I told my fren bout it.

Now I know why I don't have special someone a.k.a special boyfriend.
And it is the worse birthday gift ever.




Permalink
>>
Mahal Kaya!


Monday, May 14, 2007 09:50 am (de5lin)

Sebelum ketemu Pink Plantuners, aku berkira-kira untuk mencari sesuatu. Tiba di Mega Mall aku terus ke Jusco, maklumlah tengah sale.

Jumpa dengan sudut yang aku niatkan. Aku pusing sekitar, belek-belek untuk pilih mana yang berkenan.

RM 99.

RM 89

RM 76

RM 128.
RM 128. Only for 1?
RM 150?? owh, for 2. Okay la rather than tadi only for 1!!!
Gilanya mahal.
Kalau 1 set ok lah juga, ini tidak.
Penyudahnya aku tangguhkan niat. Lainkali le.
Mahal melampau. Kalau dengan harga itu datang dengan gerenti 99% prevent breast cancer takpe jugak. Ini, hmmm belum tentu dek non oii....
Sometimes I feel nonsense bout it. Kalau di luar boleh juga berpoyo. Waaa! dia pakai triumph, Wacoal, La Senza, Pierre Cardin.
But I guest it is affordable outside effect rather than silicon. As a proof, my buddy C.K. Mata dia bersih sungguh. Tak cakap pun aku dah tau body language dia.
Buat duit gila.
Jual pakaian dalam wanita pun aku rasa boleh kaya!
Permalink